TRY THIS SUN SALUTATION WITH DARLENE, YOGA IS INSTRUMENTAL INSTRUCTOR, TO A DR. WHO DAT/JNEIRO JAREL INSTRUMENTAL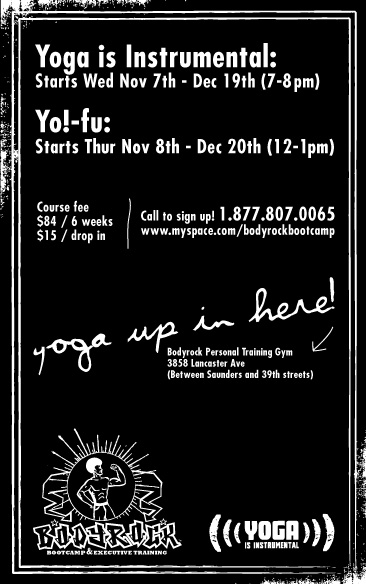 Yoga is Instrumental were a series classes that offered  mindful yoga for people who love music. The course was a one hour vinyasa/power yoga workout for hip-hop, dancehall and soul lovers. These classes took place in Amsterdam, Durham, NC and Philadelphia. Yoga Is Instrumental classes helped students develop strength of body, balance and poise through a vigorous yoga workout while listening to the instrumentals of Pete Rock, DJ Premier, J Dilla, Count Bass D, 9th Wonder and more. I connected with several yoga and fitness instructors (see below) to create the classes.
Flyers and logo for Yoga is Instrumental were designed by CeCe Bursell, who is a designer at Nickelodeon.
More info on Yoga is Instrumental teachers and collaborators:
Nate McIntyre, Fitness instructor, sponsored Yoga is Instrumental classes at his gym, The Body Rock Boot Camp and Executive Training Gym. Bodyrock Bootcamp offers a variety of classes, individual or group, inside and outdoors. Read more about Nate's classes and bootcamps.
Misia Denea, Yoga Instructor, is the winner of the Leeway Foundation Transformation Award. The Transformation Award gives $15,000 to artists who have been creating art and social change for the past five years or more. She is a graduate of Dhyana Yoga's 200 hour Teacher training program. She has a background in hip hop , african and modern dance and uses these techniques to shape her yoga practice with a focus on offering classes to people from all backgrounds, genders and socio economic brackets.
Darlene DeVore, Yoga Instructor, was first introduced to yogic breathing technique and moderate postures in 2001, while receiving training in massage therapy. She has had a life long affinity for the body and the anatomy of movement. An intuitive bodyworker for more than six years, received her yoga teacher training certification in 2005. Her current work as a freelance massage therapist and basic vinyasa yoga instructor is an ongoing balance with being a wife and mother. Darlene desires to make yoga and therapeutic bodywork and overall wellness accessible to all demographics. Her inquisitive, investigative nature inspires her continued study and experimentation with focusing the mind and body on the same verb, mindfully.